CURRICULUM
Superiorly pedigreed we dine on the vision of the 21st century and also confidently take on ourselves numerous challenges to stand tall and a class apart. Here passion for action will be infectious. The ambience will be intellectually and aesthetically stimulating. The faculty will undertake the continuous process of self-renewal. Curriculum transaction will be edu-aid supported with learning experiences being rewarding relevant and rigorous. Proactive and student friendly each day will be greeted with a fresh breath of energy with each session bench marking standards in academics attainment and non-scholastic domains. The needs and aspirations of all children will be fully and fairly met. Opportunities for participation in activities will be abundant. Ample avenues will be there for enhancement for individual capabilities. We will partner to improve performance, practices, capabilities and results to acquire national presence and international patronage.
We prescribe to progressive curriculum of Central Board of Secondary Education (CBSE)
SCHEME OF ASSESSMENT AND EVALUATION
Evaluation is a means of realizing the extent to which we have been successful in imparting such an education. Evaluation is an indispensable part of the educational process as some form of assessment is necessary to determine the effectiveness of teaching learning processes and their assimilation by learners.
SCHEME OF EVALUATION FOR CLASS IV TO CLASS VIII
The Academic year will be divided into 2 Terms
Term-1 June –September Term-2 October – March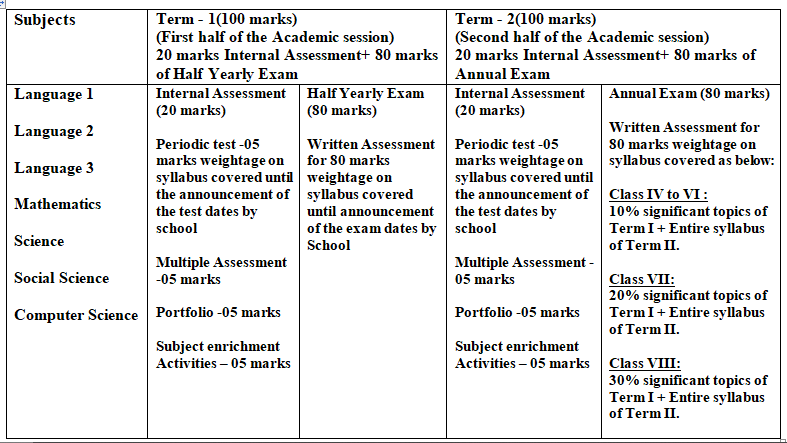 CLASS IX AND X
The Academic year will be divided into 2 Terms
Term-1 May –September Term-2 October – March
Scholastic Areas : Scheme of Assessment and Evaluation
Internal Assessment – 20 marks Weightage
Periodic Test – 05 marks weightage on syllabus covered until the announcement of the test dates by school
Multiple Assessment – 05 marks
Portfolio – 05 marks
Subject Enrichment Activities – 05 marks
Number of periodic test -03
Pre Midterm Examination
Midterm Examination
Post Midterm Examination
Session Ending Examination
Annual Examination for class IX and Board Examination for Class X of 80 marks weightage covering entire syllabus for three hour duration
Final result will comprise the marks scored in Annual Examination and Internal Assessment.
Students have to secure 33% in total in each of these components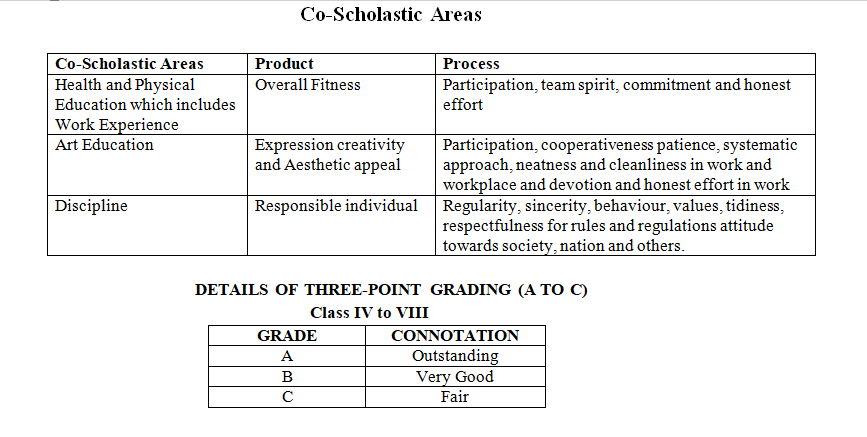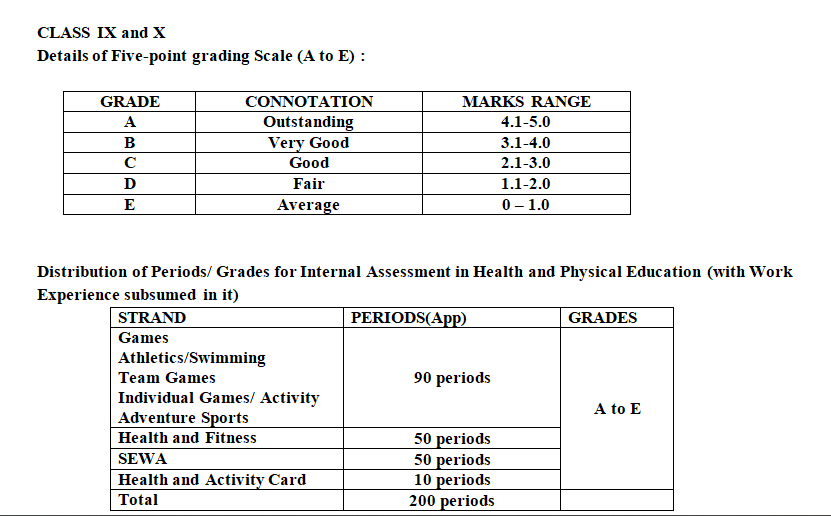 PROGRAMMES
Education is integral to maintain the cultural and structural stability of society. Society, whether it is viewed on a local, national, or global scale, is in a perpetual state of flux. An effective education system is one that is adaptable to change.
The Fundamental aim at BGS NPS is to provide each child with a well balanced comprehensive high quality holistic education which caters to the overall development of the personality. It is our earnest Endeavour to ensure that every student of our school emerges as a winner.
The school is headed by a well qualified, experienced and dedicated Principal who is assisted by a team of devoted, qualified and highly experienced teachers with a special aptitude for teaching, and a well supportive friendly and approachable administrative staff.
ThinkQuest is a global network of students, teachers, parents and technologists dedicated to exploring youth-centered learning on the Net.
ORACLE ThinkQuest

ThinkQuest is an online program that challenges students to develop educational Web sites for K-12 curriculum. Students can win great prizes for themselves and their school.
The ThinkQuest resources featured in Teacher Tacklebox represent only a small portion of the many great educational resources developed by students available at the ThinkQuest Library of Entries.
BGS NPS is a member school of Oracle Education Foundation and all teachers and students are trained in Project based leraning.
YOKIBU

Our children are our future. But their future depends on who and what we expose them to. We all want our children to be positive and be successful in their life. Yokibu.com addresses the issue of whether We as parents are equiped with all that is needed to make that happen.
Yokibu.com is all about helping our children grow positive and be ready to face the challenges of the changing social and cultural trends of the globalized world. Families have become more nuclear than ever before and hence the support system that existed and helped us grow secured in the joint-family system is now a rare opportunity for a very few children.
In the modern society, Parents and Schools have to take more active role in providing our children the same level of secure and convivial atmosphere that children of earlier generation enjoyed and took it for granted. This is even more essential, especially in the formative years of the child.
Conserve My CampusT

Conserve My CampusT a participative educational program initiated by Conzerv System Pvt. Ltd. of Schneider Electric with a vision to help campuses save the energy and the environment. The program has been conceptualized to address the crucial energy crises that the planet is going to face in the coming years.
The team of Conserve My CampusT had a program with BGS NPS where they identified the students who have the urge to conserve the natural resources of the planet earth through a set of assessments where 40 students were shortlisted and termed as "Green Ambassadors"
These students under the guidance of Conserve My CampusT team and teachers coordinators take up classroom activities, hands on projects, interaction with people etc. to create awareness in school and community.
Civic movement for children is another area where our students are actively participating.